November 16–30, 2023
European Union Film Festival 2023
Europe without the jet lag!
Our perennial showcase of contemporary European cinema returns this fall for another best-of-both-worlds hybrid edition! Proudly presented in partnership with the Canadian Film Institute (Ottawa) and the European Union Film Festival – Toronto, along with the member states of the European Union and the Delegation of the European Union to Canada, this 26th installment of the festival in Vancouver features in-theatre offerings from all 27 EU members. A selection of films will also be available to rent online at euf​fon​line​.ca following the conclusion of our in-person festival.
Like last year's edition, EUFF 2023 will include a fundraiser screening for Ukraine, organized in partnership with the Embassy of Ukraine to Canada. Proceeds from our presentation of Antonio Lukich's celebrated comedy Luxembourg, Luxembourg will benefit the Maple Hope Foundation, a Canadian not-for-profit organization committed to helping people suffering from the war in Ukraine.
Whether on our screen or yours, we hope you enjoy this year's survey of recent cinema from across Europe.

Film notes written by Tom McSorley
Additional notes by The Cinematheque
Acknowledgments
For assistance in making Vancouver's European Union Film Festival possible, The Cinematheque is grateful to Diodora Bucur, Press Officer, Delegation of the European Union to Canada (Ottawa); Tom McSorley, Executive Director, Canadian Film Institute (Ottawa); Jérémie Abessira, Executive Director, European Union Film Festival – Toronto; and the Embassies and Consulates of all European Union member states. Program subject to change.
Media Partners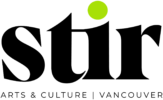 Note
Please note: Tickets to in-person screenings do not include access to online EUFF offerings, nor vice versa. See euffonline.ca for further details on the virtual festival.